Most Popular Golfing Packages
Frequently Asked Questions
Should I invest in a special travelling case to protect my clubs?
Golfer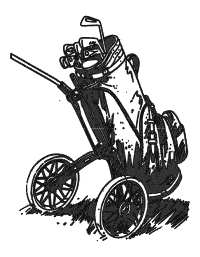 Often, I get this question from clients of my golf travel company? Actually, I too wrestle with this question. When I pack to leave on a golf trip, the main conundrum is always which travel bag should I use for my clubs? Should I take the hard case, the one that looks like a portable coffin, the soft sided case which runs the risk of club damage from the gorillas that seem to work in airport baggage handling, or the soft-sided hybrid?
The problem with these options is that they each require that I pack my clubs into a travel bag that I will have to later remove and store after reaching my destination. At times like these I think, wouldn't it be great to just slip my clubs into a bag that was designed for both travel and play. Recently, I have found just that. Sky Explorer by Porterline is a beautiful, fully functioning golf bag, with space for everything you would normally put in your carry bag, but with travel accessories like wheels, a telescopic handle for easy transport and a hard top to protect your clubs from damage. I never thought I would find a golf travel bag that could be so easy. What makes the Sky Explorer tower over and above other hybrid travel/playing bags is that it looks and functions exactly like a real golf bag. In fact, it's hard to tell the difference, even when you are standing right next to it. When you arrive at the airport you lift the bag off the carousel, pull the telescopic handle and walk away. The skate wheels are smooth as silk and the centre of gravity is surprisingly balanced. Once you check-in at your golf course, you remove the hard top, replace it with the padded soft cover, clip on the detachable shoulder strap and you're good to go, no bulky travel bag to store. The Sky Explorer is as easy to handle by your caddie as most carry bags.