Most Popular Golfing Packages
Frequently Asked Questions
Other essentials to take on your golfing holiday to international destinations.
Golfer
2017-03-02T20:19:27+00:00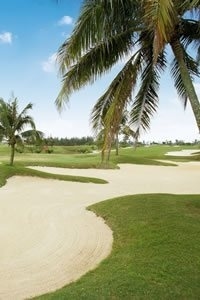 In addition to your golf clubs there are the 7 essential items to bring when golfing to international destinations.
The tropical sun is much stronger than in the west, especially in winter, and too many a visitor has suffered severe sunburn after playing only one round in Indochina. This is easily avoidable if you bring light colour clothing to deflect the sun, Sun block (the highest SPF available), and a golf cap.
A rain cover is an excellent idea as you never know when a Indochina downpour will occur. The good thing is any rain, even during the middle of the rainy season, will cool things off and is unlikely to stop your round for too long, at most 1 hour.
If you want to be useful, also bring some band-aids (plaster). You never know when a blister, insect bite, or scratch will require some minor on course first-aid.
Perhaps the most important thing to remember about going on a golfing holiday, and in fact any holiday, is a good attitude. This is rarely included in a "must bring" list, but I find if you make a conscious effort to be positive, that you are much more likely to score well, thus ensuring a good time on the course and a memorable golfing holiday.
Most of the golf courses  accept credit cards for purchases in the pro shop such as caps, balls and gloves. However, sometimes they're systems can go down and in any case all golf courses require cash for caddies, so make sure you have ample cash available for any purchases. Around 15 US Dollars per round should be fine.
Bring an umbrella, not just for the rain but to give you shade from the sun. You will need it during the hot season. As strange as this seems a golf umbrella can lower on course temperatures by more than 5 degrees and make the difference between being dehydrated and exhausted from the heat before you even finish your round, to actually making for pleasant playing conditions.
Finally you should always bring the usual items any properly prepared golfer has including spare gloves, a towel or two (particularly useful for wiping sweat from yourself and your grips).